Don't just shop, shwop
Posted on 16th May 2012 by Mike Bayfield in
Blog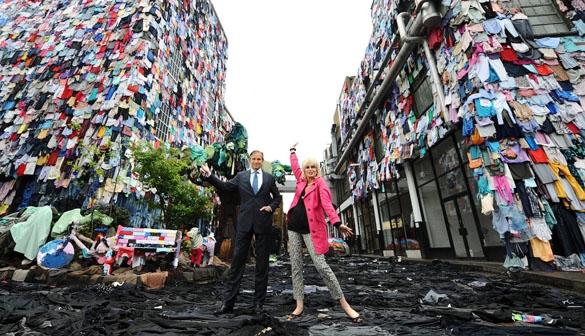 I know very little about fashion. Ask my wife. I don't stop wearing stuff just because it's no longer 'in' – maybe because it never was. But I do still have piles of clothes lurking at the back of my closet, that haven't seen daylight since Dolce met Gabanna.
I don't know about you, but I could use the space. So what do I with them all?
I could donate them to a charity shop/thrift store, to be bought second-hand by art students and nu-folk musicians. Alternatively, I can drop them in a clothes bank in my local supermarket car park, where they'll either be passed on directly to people in poorer countries or recycled.
This is what happens to most unwanted clothes in the UK, but about a quarter of them simply end up in the garbage. And then in a landfill site. Around two million tonnes a year. Not only is this a shocking waste but also an environmental disaster. Somebody should do something about it?
Well somebody is. Marks and Spencer. Or, as they're more commonly known; M&S. The UK's biggest and best-loved clothing retailer is trying to start a movement of its own – 'Shwopping.'
The idea is this: whenever you by a new item of clothing, you hand over an old one. Simple. Shoppers are being encouraged to take their unwanted garments into all 342 M&S stores in the UK and leave them in recycling bins by the checkouts.
M&S will then pass them on to the charity Oxfam, to be resold, reused or recycled. The money raised will be used to help people around the world living in poverty. The aim is that not a single item will go to landfill, with M&S recycling as many clothes as it sells –around 350 million a year – and generating millions of pounds for Oxfam in the process.
The public face of the campaign is TV actress Joanna Lumley. Nobody could be more quintessentially British. Rather like M&S itself. Through a high profile media campaign and PR stunts, such as draping the streets of London with thousands of items of discarded clothing, she's encouraging us to live more sustainable lives, simply by 'shwopping.'
As with the growth of any modern movement 'shwopping' is, of course, built around social media activity. Driven by a Facebook presence, customers can share shwopping experiences, enter prize draws and see how many clothes are actually being shwopped.
M&S launched a similar initiative previously in 2008, when they offered £5 vouchers to people donating old clothes to Oxfam shops. That campaign raised more than £8m, but this time there's no financial incentive. It's simply appealing to our goodwill, but costs nothing to do.
It's still early days, so there are no figures yet to measure the success, or otherwise, of this new initiative. As expected though, there have already been some detractors, who see it simply as yet another cynical marketing ploy. As if marketing ploys, by their very nature, cannot be anything else.
The essence of this argument is that it will merely help fuel rampant consumerism, encouraging us to actually buy more clothes unecessarily, generating more waste and putting more strain on the environment.
M&S are presumably hoping to increase sales through 'shwopping'. But whether this will encourage the great British public to buy more clothes than they otherwise would is debatable. During the second installment of our double-dip recession, consumers are trading down and spending less.
A more likely outcome is that certain consumers will become inclined to shop at M&S rather than rival retailers, increasing market share, rather than actually increasing the size of the market per se. But, if it does stimulate aggregate consumption, with more than 2.5 million people unemployed, quite a few of them would welcome a job on the shop floor.
A more legitimate criticism is that the initiative might, unintentionally, threaten the existence other charity shops up and down the land – from cancer research to cat protection. Many of these also depend on clothes donations to raise money for their own causes. But rather than emptying their coffers, hopefully it will simply encourage more of us to clear out our closets, boosting the funds raised by charities overall.
M&S bank on 'shwopping' being more than just a passing fad. They want to change the way we shop for the better. If so, it should lead to a significant increase in old clothes being recycled, and more money raised for those who can't afford to buy their own. Surely that's a movement that many people will support and want to be a part of. It might even become fashionable.
blog comments powered by

Disqus