Black Friday. Cyber Monday. Meet Small Business Saturday
Posted on 20th Nov 2011 by Anthony Kalamut in
Blog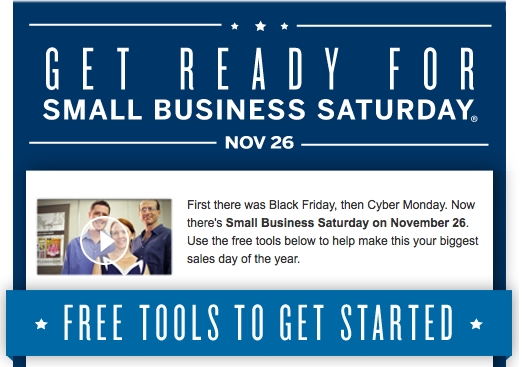 In America this week we will celebrate Thanksgiving. A day to celebrate family, friends and reasons to be thankful, but the days following will give the economy a great measuring device; How good will this holiday season be in terms of retail sales?
Can a "movement" inspire people to shop different?
"Big Box" retail and mall chain stores will own Black Friday (the day after Thanksgiving) starting sometime after midnight and the following Monday on-line sellers will open their discounts to shoppers. But what about the backbone of the economy, the small local business? Last year, American Express® launched a movement to get shoppers to think about shopping locally. Meet "Small Business Saturday", a movement to engage communities.
Small Business Saturday was a movement created in response to small business owners' most pressing need; to create a demand and traffic for their products and services and a reminder of their importance to community. In all, 130 small business advocate groups, public and private organizations and elected officials joined American Express® in declaring November 26 as Small Business Saturday.
So has the consumer and business bought into the movement? YES!
To date, over 2.3 million people have joined and helped spread the word by "liking" Small Business Saturday on Facebook and some 35,000 tweets using the hashtags #smallbusinessaturday or #smallbizsaturday were sent all in the name of getting folks to shop local.
American Express® has asked consumers to take the "pledge" to shop small and in return will get a one-time $25 statement credit when you use an eligible American Express® cards for a $25 purchase or more at a small business.
Local shops will also benefit from the program with American Express® offering small businesses $100 of Facebook advertising by joining the movement and give them the tools to build their messages using 'geo-targeting' for their locations.
Last year, American Express® pledged a significant donation to Girls, Inc. tied to the number of "likes" on Facebook, and based on the popularity of the Facebook page, Girls Inc., received a $1 million donation for programs to empower young women to become entrepreneurs.
It is such a simple idea to inspire and remind consumers that small businesses are the lifeblood of their communities and that thrive on these businesses that keep people employed, build spirit and keep money in the local economy.
So join the movement this Saturday, shop at a small business.
The campaign creative elements were a collaboration between agencies CP+B and Digitas.
Have a look at the TV link by clicking here.
blog comments powered by

Disqus